Henglei Produces whole set equipment for full hologram procution lines, include hologram mater shooting, electronic forming, hologram embossing, lamination and coating, cutting and hologram hot stamping transfering. Our hologram machines produce hologram sticker, hologram hot stamping foil, hologram overlay, scratch off hologram and wide web holographic packaging film. In this webpage we briefly introdue how to produce holograms by our machines. For example, how to set up a production line to produce 2 millions pcs security holographic sticker in size of 15mm*15mm a day. To do this, you just need electronic forming machine, hologram hard embosser, lamination machine and automatic die-cutting machine with sheeting and slitting. We also supply more equipment for hologram hot stamping foil production, hologram scratch off hologram, etc.
There're some photoes of hologram machines below. They will help you to understand how do we make holograms. You are welcome to visit our factory or hologram training plant to see how machines running in process of production.
Affordable Hologram Machinery Hologram Sticker Production Photoes Hologram Hot Stamping Machinery and Project
Below information show whole set of hologram machines to produce holographic sticker from holographic master origination shooting to final hologram sticker die-cutting. Most of these machines are also used in hologram film production, hologram hot stamping foil, hologram overlay, hologram pouch, scratch off hologram. We list machines to make holographic sticker and hologram film (wide web soft hologram embosser) bellow. In the bottom of this page you can download vedio of our macines.
How to Produce Holographic Sticker
Step#1. Master origination shooting machine to record hologram image onto photoresist by laser. Coating silver onto photoresist master to get glass hologram origination.
holographic master shooting system including 2D/3D and Dot-matrix system. 2D/3D hologram system records different color hologram image/text and layers on anti-vibration optical table through optis by He_Cd laser. Dot-matrix system records millions of small holgoram grating dots by laser beam and combines a full holgoram image which is designed on computer.
Step#2. Electronic forming soft tank to duplicate hologram shim from silver coating photoresist. This electronic forming process wil produce master origination shim or small size hologram nickel shim for recombination.
Step#3. Recombiantion machine to press small pcs hologram nickel onto plastic film to get big size plastic holographic master.. Usually, we will recombine dot-matrix hologram and 2D/3D hologram into 6"*6" hologram area master. 2D/3D master system also can work without recombination. After recombination, we have to coating silver onto plastic hologram master again and do step#2 job to get a big size holographic master origination.
Step#4. Put holographic master origination into hard electronic forming tank to duplicate operation hologram nickel shim for hard embossing. The hard shim duplicated is strong enough for hard embossing.
Step#5. To fix hologram operation shim onto hard hologram embosser to press hologram image onto PET/OPP film to get holographic foil which has metalizing layer or coating layer.
Step#6. Lamination machine/coating machine to coat adhensive onto hologram embossed metallized film. Th hologram sticker foil will be lamiated with releasing liner.
Step#7. Die-cutting machine to cut hologram stickers automaticly and sheeting/slitting.
Step#8. To do serial numbers, etched logo, barcode by numbering machine and laser engraving machine.
How to Make Narrow Web Hologram Hot Stamping(160mm width) Foil by Hard Embosser? (brief introduction)
step1. Make holographic master origination (Master origination shooting system, 2D/3D or Dot-matrix)
step2. Copy operation nickel shim from holographic master origination(Electronic Forming Machine)
step3. Emboss hot stamping foil which is without hot melt adhesive(Hard Embosser)
step4. Coat hot melt adhesive(Hot stamping foil coating machine)
How to Make Wide Web Transparent Holographic Film and Silver,Red, Green, ... Holographic Film?
step1. Produce small pcs customized design holographic master(Master origination shooting system, 2D/3D or Dot-matrix) .
step2. Recombine small master to big master up to size of 1500mm*600mm. (Big Recombinaiton Machine)
step3. Copy big size nickel master shim(Electronic Forming). We have around 80 general design master upto size 1500mm*600mm.
step4. Eemboss transparent pre-coated BOPP film, PET film, PVC film. Then you get transparent hologram film for packaging. Or to emboss pre-coated with color layer to produce silver, red, green holographic packaging film. (Soft wide web embosser)
step5. Vacuum Metalizer to metalize transparent hologram film. Then you get silver, red, green holographic packaging film. (There're several good quality Vacuum Metalizer suppliers in China)
We also can use soft embosser to produce wide web hologram hot stamping foil with Vacuum Metalizer, Coating machines.
How to Wide Web Hologram Hot Stamping Foil, Holographic Paper ? How to Hologram Aluminum Foil? How to Scratch Off Hologram? ......
Questions of Hologram Production:
What's kind of material use to prodcue hologram sticker? Matellized PET film, Silicon liner(paper) and Adhensive
How many person require to run who set line to produce hologram sticker? 2-4 staff
How much water and electricity will consume every month? Less than $150
How many square meter required to set up whole line machines to produce holographic sticker? 120-200 Square meters
List of Hologram Machines
1. 2D/3D Master Shooting System
2D/3D master shooting lab includes Microprocessor-Controlled Automatic Positioning Platform and controller, Optical Table, He-Cd Laser, whole set Optics, Silver Coatings and other technology transfer.
2. Dot-matrix Master Shooting System
Whole set of dot-matrix holographic master shooting machines includes high precision dot-matrix platform, 3 color separation optic head, platform controller, PC and software, Silvering, He-Cd Laser.
3. Holographic master Recombination Machine
To recombine small master into big master.
Small recombiner can recombine upto size 250mm*250mm.
Big recombiner can recombine upto size 1500mm*650mm.
4. Electronic Forming Machine
Electronic forming machine duplicates nickel operation shim from hologram mother shim for next process hologram embossing. Then we fix nickel hologram operation onto embosser's cylinder and emboss hologram image onto metallized PET film

5. Narrow Hard Web Embosser
Narrow web hard embosser is the machine to emboss hologram image onto base material such as aluminum metallized PET film, transparent PET film, aluminum foil,etc. It's very simple manufacturing process with very low cost. Hologram image is compressed by three cylinder with air pressure without ink.
6. Hologram Lamination
To laminate silicon paper(liner) and hologram film together by adhesive. Adhesive (usually, solvent based) is same adhesive for normal self-sticker.
7. Hot Melt Adhensive Coating Machine
To coat hot melt adhesive on hot stamping foil.
8. Wide Web Soft Embosser
To emboss transparent hologram film in wide web width up to 1200mm. The base material can be BOPP, PET and PVC film.
9. Hologram Sticker Automatic Die-cutting Machine
This machine die-cut hologram sticker precisely and fast in roll format with slitter.
holographic master Shooting System
Master shooting System has two type. One is 2D/3D mater shooting System, another is Dot-matrix master shooting System.
2D/3D mater shooting System new type, simple and easy to learn
There're two type of 2D/3D master shooting. One way is to shoot master by H1 glass to make hologram text or image in background. Another way is to shoot master by hologram image maker facility directly.To shoot master by hologram image maker facility directly, all forground image and background image can be shooted in same way(no need to make H1 glass for background first). It's much easily way than to make background by H1 glass. Master shooted by hologram image maker facility also is much shining and clearn without noise wrinkle than the master shooted in another way, especially, on big rainbow area. To shoot master by hologram image maker facility, we need automatic position localization equipment to locate record glass position precisely. To shoot master by H1 for background, we have to control position platform manully.
Two different 2D/3D master shooting, we need two different position localization equipment, one is manual positioning equipment , another is automatic positioning equipment.
We have both type master shooting technology. To shoot master by hologram image maker facility is suggested because it's easier to learn and quality of master made is better.

With 2D/3D master shooting system, we can make 2D/3D, 2D, Flip-Flop, Microtext, Hidden Image, stereogram,
Special Effects, Animation.
Main euipment required for 2D/3D holographic master shooting: Laser, X Y Stage, Optics, Optical table.

He-Cd laser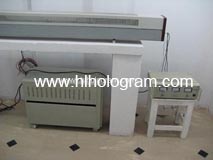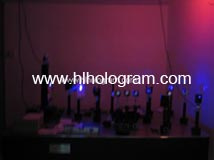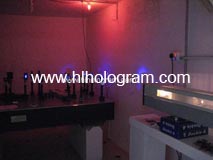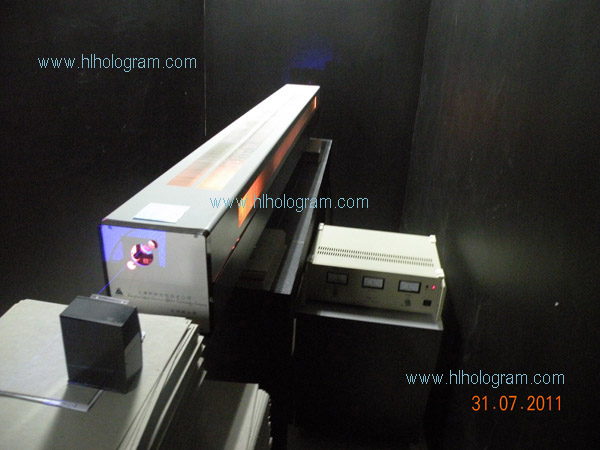 This is the photo of He-Cd laser which is in my training room. Helium Cadmium Laser power is 60mv -100mw, 441.6nm, with control unit and power supply There're Chinese made or Japanese made laser(Kimmon,Japan) available. The laser controller is automatic. The laser power meter check the laser beam parameters.

It's the breif image of He-Cd laser structure in side.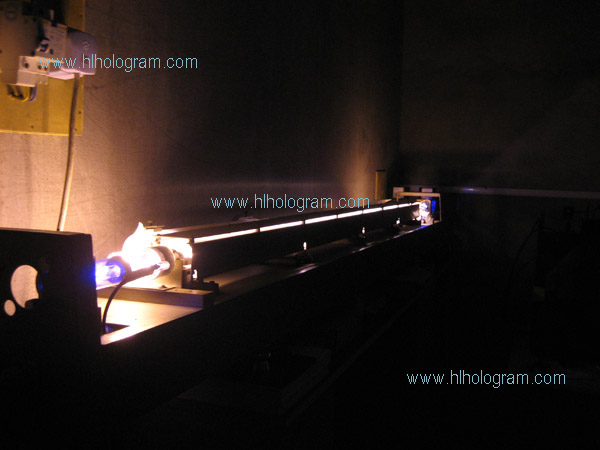 Above He Cd Laser cover is removed. You can see blue beam in two side of laser.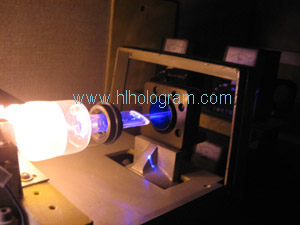 The laser beam come through the front side glass.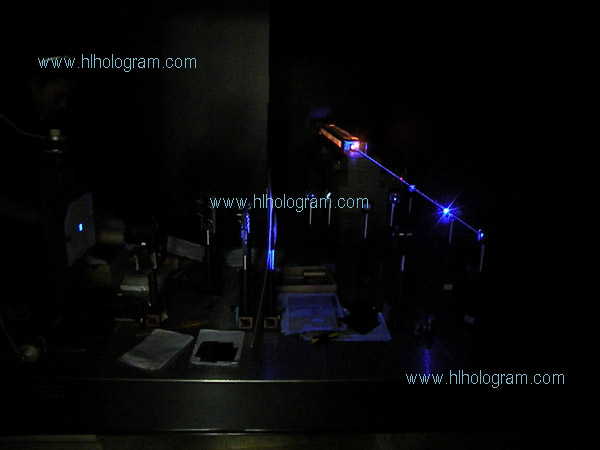 Above He Cd Laser cover is removed. You can see blue beam in two side of laser.
X Y Stage
Microprocessor-Controlled Automatic X Y Stage to locate photoresist position and movement for 2D/3D, kinematic movement, flip-flop, hidden text, floating effect holographic master shooting..
Microprocessor-Controlled Automatic Positioning Equipment is 3D process machine who control the master shooting according to the pre-setting parameter. It can control position, distance and depth of hologram will be shooted and how long time glass will be exposed to laser beam when shooting.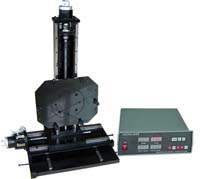 Specifications:
1.Voltage std.:-220V,50HZ, Power consumption <150W
2.Processor:2*57BYG060, 86BYG450B
3.Shutter:DC24V/0.5A, AC220V/2A
4.Value: Horizontal Direction 0.01mm, Vertical Direction: 0.01mm, viewing depth: 0.01mm
5.Times: Horizontal Direction<600 times, Vertical Direction<600 times, viewing depth Direction 1 time
6.Scope: Horizontal Direction<200.00mm Vertical Direction<220.00mm viewing depth<80.00mm
7.Waiting time: Toff: 1-999 second
8.Exposure time: Ton: 1-999 second
9.speed: 0-9 adjustable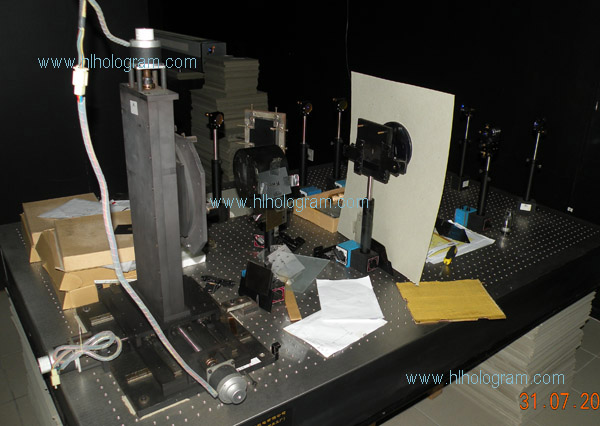 X Y Automatic stage to control photoresist movement in X Y position.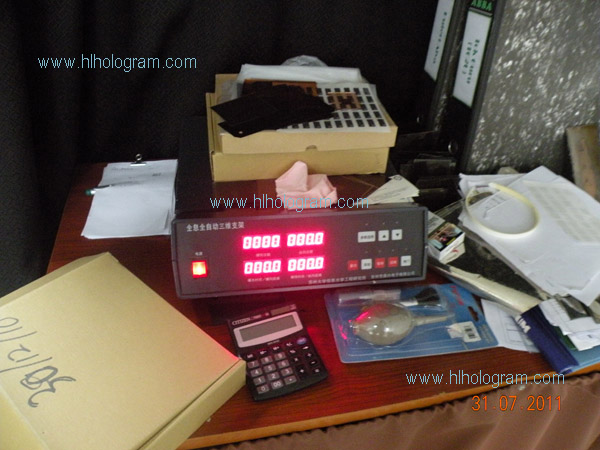 X Y Automatic stage controller to set X Y position, movement distance, exposure time, pause time, etc.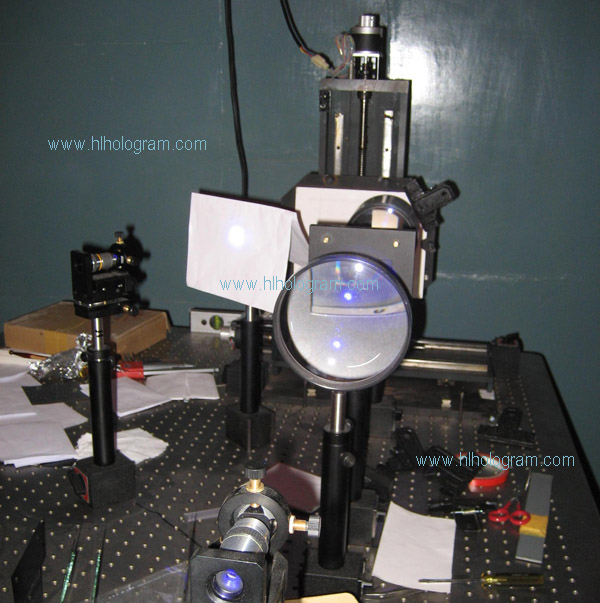 Lens, filter, X Y stage on optic table.
Optical Table and optics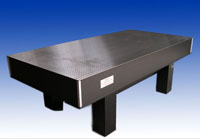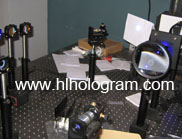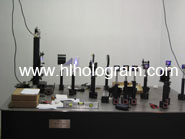 Specifications:

Load weight:800 kg
Solid Frequency Horizontal Direction < 1~1.8HZ Vertical Direction < 1.1~1.8HZ
Maximum anti-vibration value 1.1*10-3~ 3.5*10-3
Table Flat Smoothness: 0.10 mm/m2
Maximum relative displacement: 0.22 nm~0.10 nm
L*W*H: 1800mm*1200mm*140mm for new system or 3200mm*1800mm*26mm for old system
The weight of whole System will be 1600 kg / 3000 kg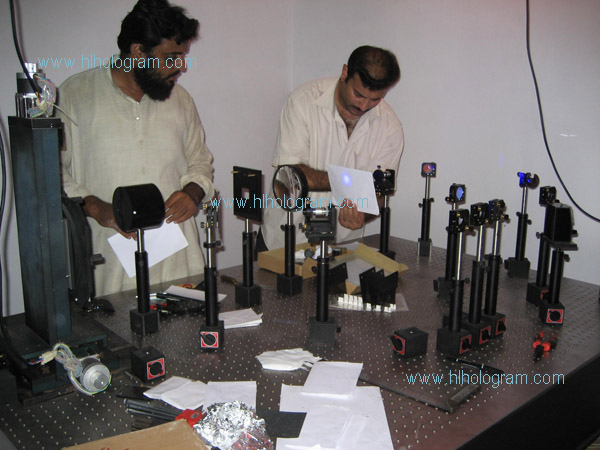 Optical Tables: 1200 x 1800 x 200mm, Metric M6 Holes, Isolated. Or equivalent. The vibration should be Isolated for holographic master shooting.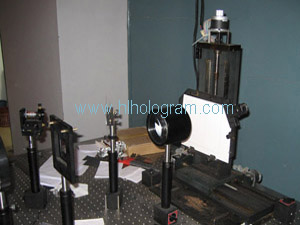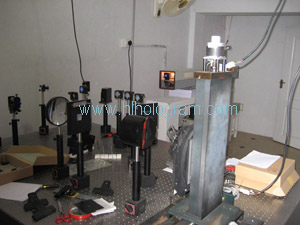 The optical Table System should be isolated from outside environment vibration. It has to feature integrated accessories to optimize laboratory space, organization and safety. The system should have about 200mm thickness with a 1200mm width, 1800mm length and Metric M6 holes on a 25mm grid. There is a need to have casters with it as standard feature for easy mobility. Or equivalent.
Whole holographic master Shooting System
A. New Model 2D/3D holographic master Shooting System. It one step shooting hologram system.
Turnkey of New Model 2D/3D holographic master Shooting System Consists of Equipment: